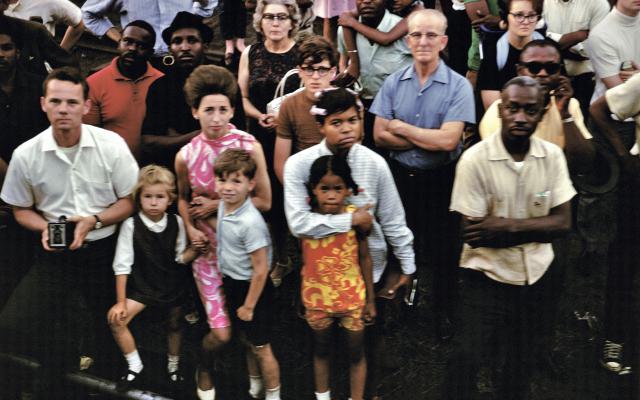 A Project written by Claudine Boeglin and Ryan Runstadler for Magnum photographer and humanist, Paul Fusco with the aim of sharing his first hand American stories — both professional and personal — while on the road across the United States. From East To West, he will give us a sense of the burden he carries through his 50 years of photo reporting, his lens always focusing on the moments and people society often forgets (the farmers, the homeless, the elderly, mothers losing a child to war, to a nuclear disaster: the waking casualties of our own ignorance).
Coined "a veteran photographer of war and grief and social issues", Paul Fusco was born in Leominster, Massachusetts in 1930, and became recognized for his renowned project Funeral Train, a series of anthropological portraits of Americans taken in 1968 from the train carrying the coffin of Bob Kennedy from New York to Washington. In 2000 he embedded himself for two months with the condemned children of Chernobyl. Since 2003, he has methodically covered the ongoing funeral ceremonies of American families who lose their children in Iraq. The feature, called Bitter Fruit, will be published as a book in 2010. Paul currently lives in Novato, CA next to his family.
Paul teaches us about the world we do not see. The one that never stops occurring while our heads are turned and the volume is up. His photos serve as lessons, reminders and monuments to the people and events that would otherwise go unnoticed. They remind us of our civic obligations, of our own humanity, in a time of self-obsession and narcissism. Renouncing comfort, fame and the easy story, Paul's subjects speak with an honesty that has a voice all its own, depicting the human struggle against all forms of powers and poverty, conformity and ignorance.
In Summer 2010, we'd like take the road for a month and bring Paul back to the people he never stopped helping, raising their voice in the way only Paul knows how. Through his encounters, we will capture the mood of Americans in these new times, recording their altered hopes and dreams in a changed world. If you ever meet us on the road, you'll recognize him first. He is a tall man with long legs built for a LOIS jean. If there's one thing you'll remember about Paul after meeting him, it will be the way he says "thank you". He is one of the few who has truly given his life for the world he lives in.
BIOGRAPHY
Paul Fusco was born in Leominster, Massachusetts in 1930. He worked as a photographer with the United States Army Signal Corps in Korea from 1951 to 1953, before studying photojournalism at Ohio University, where he received his Bachelor of Fine Arts degree in 1957. He moved to New York City and started his career as a staff photographer with Look, where he remained until 1971.
In this role he produced important reportages on social issues in the US, including the plight of destitute miners in Kentucky; Latino ghetto life in New York City; cultural experimentation in California; African-American life in the Mississippi delta; religious proselytizing in the South; and migrant laborers. He also worked in England, Israel, Egypt, Japan, Southeast Asia, Brazil, Chile and Mexico, and made an extended study of the Iron Curtain countries, from northern Finland to Iran. Fusco became a Magnum associate in 1973 and a full member the following year. His photography has been published widely in major US magazines including Time, Life, Newsweek, the New York Times Magazine, Mother Jones and Psychology Today, as well as in other publications worldwide.
Fusco moved to Mill Valley, California, in the early 1980s to photograph the lives of the oppressed and of those with alternative lifestyles. Among his latest subjects are people living with AIDS in California, homelessness and the welfare system in New York, and the Zapatista uprising in the Mexican state of Chiapas. He has also worked on a long-term project documenting Belarussian children and adults sickened by radioactive fallout from the Chernobyl explosion.
I want the viewers to be moved into the lives of the people that they are looking at, the visual experience is incredibly emotional.
Paul Fusco, Magnum Photographer